Where Can You Visit Santa Claus in Hattiesburg MS?
What is your favorite part of the holiday season? Do you love the bright, twinkling light displays? Do you love decorating the Christmas tree? Finding that perfect Christmas gift for family and friends? Taking photos with Santa Claus? If you and your family look forward to meeting Santa Claus each year, Toyota of Hattiesburg will deliver with our 2017 Christmas Cookies with Santa holiday event at the dealership. Learn more about this fun, festive event at the dealership and where you can visit Santa Claus in Hattiesburg, MS with this overview of events and locations.
---
READ MORE: Toyota of Hattiesburg 2017 Operation Christmas Child Charity Event and Details
---
WHEN: Saturday, December 9 from 9 a.m. – Noon
WHERE: Toyota of Hattiesburg – 6461 US Hwy 98 Hattiesburg, MS 39402
Do you and your children look forward to visiting with Santa Claus every year? Join in the holiday fun at Toyota of Hattiesburg and visit us for Christmas Cookies with Santa. Meet with Santa Claus and let him know what you want for Christmas this year and take pictures for your annual Christmas card. Take your own picture or download them from the Toyota of Hattiesburg Facebook page after the event. Free cookies and milk will be available during the event!
[bscolumns class="one_third"]
WHEN: Wednesday, December 20 at 8:30 a.m.
WHERE: Hattiesburg Zoo – 107 S. 17th Ave. Hattiesburg, MS 39401
Enjoy a delicious breakfast with Santa and his helpers when you and your family join in the festive fun at Breakfast with Santa at the Hattiesburg Zoo. Sit down to a buffet-style breakfast, explore the zoo, enjoy unlimited train rides, take in a holiday-themed show and take photos with Santa Claus at this holiday-themed event. Tickets are $25 per person and include zoo admission. [/bscolumns][bscolumns class="one_third"]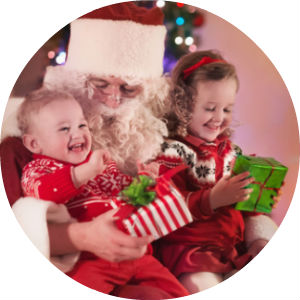 [/bscolumns][bscolumns class="one_third_last"]
WHEN: November 11 – December 24
WHERE: Turtle Creek Mall – 1000 Turtle Creek Dr. Hattiesburg, MS 39402
Is it a family tradition to get your picture taken with Santa Claus each holiday season? What better place than the Turtle Creek Mall? Visit with Santa, get your family picture taken and get some holiday shopping done at the same time – the perfect holiday combination. Make your holiday portrait complete on select nights and bring your pet on a leash or in a carrier. [/bscolumns][bscolumns class="clear"][/bscolumns]
---
READ MORE: 2017 Thanksgiving Events and Activities Hattiesburg MS
---
Where can you visit with Santa Claus in Hattiesburg, MS? Learn more about Christmas Cookies with Santa at Toyota of Hattiesburg and additional Santa-themed holiday events in the Hattiesburg area this holiday season with this overview. Make sure to tell Santa Claus what you want for Christmas this year – maybe a 2018 Toyota Camry? Visit the Toyota of Hattiesburg inventory today to find the perfect Christmas gift!