Preview of the All-New Toyota Supra Design Specs and Features
An iconic sports car in the past, the Toyota Supra is synonymous with high-end performance and with a debut of the track-ready Toyota GR Supra Concept at the 2018 Geneva Auto Show, automotive aficionados are chomping at the bit to learn more. With a production version expected to hit the streets in the near future, this preview of the all-new Toyota Supra design specs and features will serve as a precursor to more in-depth information. When the next-generation Toyota Supra arrives at Toyota of Hattiesburg, it will join the fun-to-drive 2018 Toyota 86 to deliver exhilarating Toyota-brand performance.
---
READ MORE: Official 2019 Toyota 4Runner TRD Pro Release Date and Design Specs
---
Toyota GR Supra Engine, Design Specs and Dimensions
Built in conjunction with BMW, the Toyota Supra shares many design elements with the next-generation BMW Z4 roadster. When the Toyota GR Supra hits the track later this year, it will feature a turbocharged inline-six engine that will be married to a ZF eight-speed automatic transmission that is a highlight of the all-new 2018 Toyota Camry. Fourth-generation Toyota Supra editions produced 320 horsepower and we expect the new Toyota Supra to deliver similar power numbers. When you add a front-engine design, rear-wheel drive and perfect 50:50 weight distribution, the Toyota Supra promises next-level thrills.
[bscolumns class="one_half"]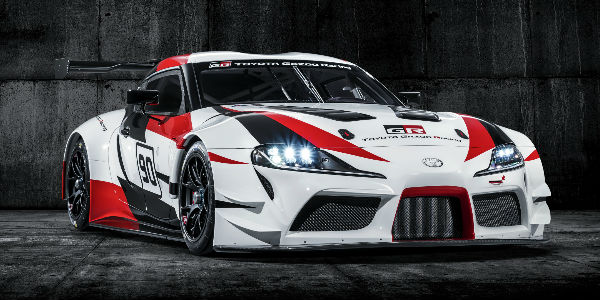 [/bscolumns][bscolumns class="one_half_last"]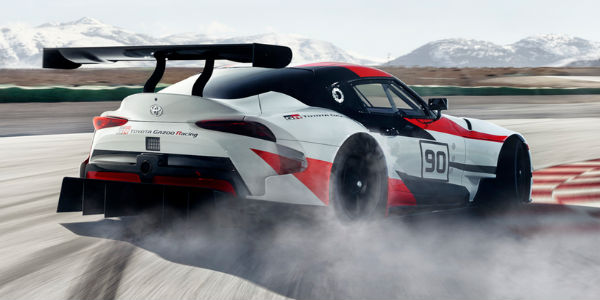 [/bscolumns][bscolumns class="clear"][/bscolumns]
With the debut of the Toyota GR Supra Concept at the Geneva Auto Show, fans of the Toyota Supra design will get a glimpse at what the production version may look like. Toyota GR Supra models feature a 97.2-inch wheelbase, are 180 inches long, 80.6 inches wide and just 48.4 inches tall. A production-tuned suspension system, Brembo brakes and a low ride height promise nimble handling and a dynamic ride that will put the Toyota Supra a cut above the competition. Drivers who cannot wait to get behind the wheel of the Toyota Supra can experience the Toyota sports car in the virtual world when it debuts in the latest Gran Turismo Sport® video game in April.
---
READ MORE: What Are the 2019 Toyota Tundra TRD Pro Features and Specs?
---
Do you enjoy heart-pounding performance when you hit the accelerator? With the debut of the production Toyota Supra on the horizon, that thrill is not far away. Armed with this preview of the all-new Toyota Supra design specs and features, you can get a glimpse at the future of the next-generation Toyota-brand sports car. Visit the Toyota of Hattiesburg inventory today to find your dream car!