Many of us know someone who has fought breast cancer, who is fighting it right now or maybe you yourself is a breast cancer fighter. October is Breast Cancer Awareness Month, so Toyota of Hattiesburg, Hattiesburg Cars, Comcast Spotlight and Forrest General have partnered together again this year to bring you Drive to Inspire. Keep reading below to learn more information about this campaign and its events in your community!
---
For more dealership information, check out our blog! 
---
Drive to Inspire List of Events and Details
The Drive to Inspire Campaign was started three years ago, and it brings awareness to people about breast cancer. With this campaign, we hope to not only bring awareness to people in our community but also bring them hope. Below we have a list of all of the campaign events. A pink 2018 Toyota RAV4 from Toyota of Hattiesburg will be at every event. We hope to see you at one of these special events and appreciate your support!
[wrc_column grid="2″ width="1″ type="start"]
September 28 – Oak Grove @ Petal Football Game
September 29 – Columbia Water Park
October 2 – Hattiesburg YMCA
October 4 – NRA Banquet
October 5 – ADP First Friday Breakfast
October 5 – Parklane @ PCS Football Game
October 6 – Southern Miss Golf Classic (Canebrake)
October 6 – Fall Fashion Event (Turtle Creek Mall)
October 8 – Marine Corps Golf Tournament
October 8 – Pink Monday (Townsquare Park)
October 10 – Blue Jazz Café (Featuring The Leaky Keys)
October 13 – Motorcycle Ride (Hattiesburg Cycles)
October 14 – West Point Church
October 15 – Sumrall Highschool Career Fair
October 17 – Hattiesburg YMCA
October 19 – Picayune @ Hattiesburg Football Game
October 20 – Pancakes for a Purpose (Longhorns)
October 20 – USM Homecoming Game
October 25 – Zooboo (Hattiesburg Zoo)
October 26 – Scott Berry Golf Classic
October 27 – Fun Run (Hattiesburg YMCA)
October 30 – The Avenues Halloween Parade
October 31 – Toyota of Hattiesburg
[/wrc_column][wrc_column grid="2″ width="1″ type="end"]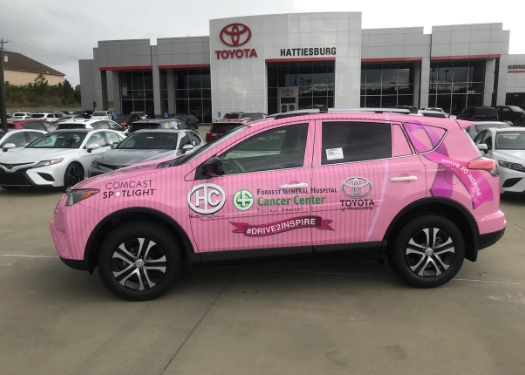 [/wrc_column]
Toyota of Hattiesburg is a proud member of the Hattiesburg community. Stop by the dealership or contact us to learn more!