The fall season is here, and you know what that means! Seasonal activities, colorful leaves, cooler weather and preparing for the holidays. But before you can have fun, make sure that you are driving safe during the fall season. Check out the short list below for some helpful tips for driving in the fall!
---
For more helpful tips, check out our blog! 
---
Safety Tips for Driving in the Fall
[wrc_column grid="2″ width="1″ type="start"]
Watch out for animals – This time of year there are more and more animals up and moving with the cooler weather. Make sure that you keep an eye open for animals that may be on or near the road!
Bring some sunglasses – The first 15-45 minutes after sunrise and before sunset this time of year is when the sun has a blinding sun glare. Make sure that you are aware of this and have a pair of sunglasses along if you will be driving at these times!
Check the forecast – If you see that it is going to rain, be sure to plan extra time to drive to where you need to go and to drive slower. Rain seems to increase during the fall season, so it is good to be aware.
Watch out for leaves – Speaking of rain, water can be slippery! As the leaves fall from the trees and cover the roads, be sure to be aware if the ground is wet. Wet leaves can be just as slippery as ice so try to avoid braking until you have passed the leaves.
Know when it gets dark – As it starts to get dark earlier in the day, make sure that you adjust your eyes and stay focused on the road ahead.
[/wrc_column][wrc_column grid="2″ width="1″ type="end"]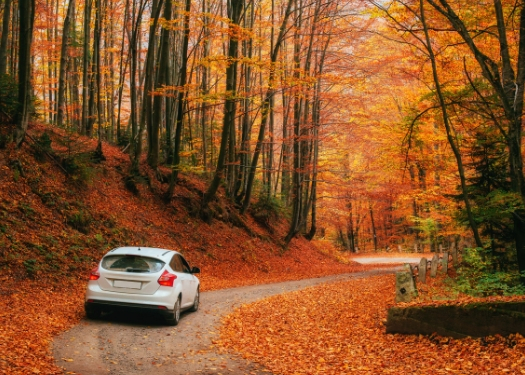 [/wrc_column]
Toyota of Hattiesburg offers a wide selection of Toyota vehicles. Be sure to check them out today online or at our dealership. Contact us with any questions!