2019 Toyota Tacoma Performance Specs and Towing Capabilities
We'll just come out and say it. The Toyota Tacoma does not get the attention and respect it deserves in the pickup truck segment. And, we get it. With trucks from Ford and Chevy, which are American manufacturers, a lot of the attention is focused on them. But drivers who do a bit of research often find that the pickup truck line from Toyota can meet their needs just as well, and often times even better.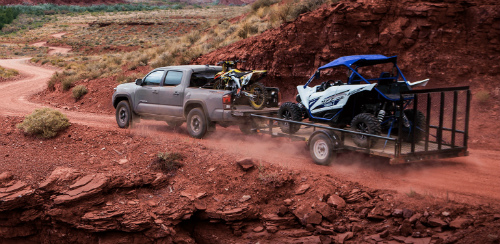 In this blog post, we're focusing on the 2019 Toyota Tacoma. The Tacoma has some impressive performance and towing capabilities, and we'll run through some of the major specs you want to know about. 
2019 Tacoma Engine Horsepower and Torque
The Tacoma is available with two different engines. The first is a 2.7-liter 4-cylinder power plant. This engine is a little lighter on power than the other, but it's perfect for those who use their pickup as a daily driver. With 159 horsepower and 180 lb-ft of torque, there is plenty of power, but plenty of fuel savings as well. 
Then, we have the 3.5-liter V6, pumping out 278 horsepower and 265 lb-ft of torque. Maximum torque is available at 4,600 rpm, with max horsepower available at 6,000 rpm. 
How Much Can the 2019 Tacoma Tow
So, clearly, the Tacoma delivers plenty of power from what's under the hood, but can it handle the heavy duty work? It sure can, with a maximum towing capacity of 6,800 lbs. Of course, you won't always have a trailer to tow. Sometimes, it's a matter of how much a truck can haul in the bed. In the case of the Tacoma, that amount is an impressive 1,440 lbs. 
---
Read more about the Tacoma here 
---
So, if you're in the market for a new truck, it's worth considering the 2019 Toyota Tacoma. To take a test drive or learn more, just contact us at Toyota of Hattiesburg, and don't forget to check back to our website blog for all the latest Toyota news.